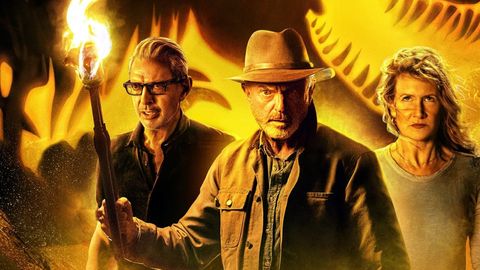 Overview
Four years have passed since the dinosaurs were freed from the Lockwood estate. Now they populate the entire globe, and conflicts between humans and dinosaurs occur again and again.
That is why the genetic engineering company Biosyn, led by Lewis Dodgson, began to relocate the dinosaurs to a closed reserve in the Alps.
But the dinosaurs are not humanity's biggest problem: giant genetically modified locusts are increasingly appearing in swarms, threatening ,to destroy crops in the US. Dr. Ellie Sattler takes up the case and asks her old companion Dr. Alan Grant for help.
Meanwhile, Claire and Owen live with their foster daughter Maisie Lockwood in a secluded cabin in Sierra Nevada. The adjacent forest is also home to velociraptor lady Blue, who has meanwhile given birth to offspring.
The cloned girl Maisie is wanted by shady scientists because of her genetic information. She is not even allowed to visit the nearby town, just to avoid attracting attention.
Despite all caution, Maisie is found by poachers and kidnapped along with Blue's offspring Beta. Claire and Owen get a tip through an FBI contact that Maisie and Beta are to be taken to a dinosaur black market in France. The two set out to rescue them....
Cast
Videos for Jurassic World 3: Dominion
Recent news for Jurassic World 3: Dominion
Relevant articles for Jurassic World 3: Dominion
This is where the Jurassic Park series cheated
These videos might interest you